Analisis Tegangan dan Temperature pada Pemotongan Ortogonal Terhadap Material AISI 4340 Menggunakan Metode Elemen Hingga
Keywords:
Pemotongan Orthogonal, Baja AISI 4340, Metode Elemen Hingga, Abaqus CAE
Abstract
Penelitian ini dilatar belakangi oleh perkembangan industri manufaktur dan dunia penelitian tentang permesinan. Selain itu, telah banyak yang melakukan studi tentang permesinan untuk mengetahui tegangan dan temperature secara eksperimen. Namun, masih sedikit yang membahas tentang analisis tegangan dan temperature menggunakan metode elemen hingga secara simulasi. Tujuan dari penelitian ini ialah Memodelkan dan menganalisis proses pemotongan orthogonal terhadap material AISI 4340 menggunakan pahat sisi pada perangkat lunak ABAQUS dimana output yang diketahui ialah nilai tegangan dan temperatur saat pemotongan. Adapun variabel permesinan dari penelitian ini ialah kedalaman pemakanan pada proses pemotongan (0.025 inch, 0.050 inch, 0.075 inch, dan 0.10 inch). Material sampel uji yang akan digunakan ialah AISI 4340 dan material pahat sisi yang digunakan ialah DNMG 120404 Carbide. Dari hasil analisis diperoleh nilai tegangan maksimum pada kedalaman pemotongan 0.10 inch sebesar 682,605 N dan tegangan maksimum terendah ialah kedalaman pemotongan 0.025 inch sebesar 197,503 N. Adapun nilai temperatur hasil pemotongan tergantung pada kondisi chips saat pemotongan.
Downloads
Download data is not yet available.
References
Abdul, Mursyid. 2020. "Pengaruh Tebal Pemotongan Terhadap Keausan Pahat Karbida Pada Pembubutan Baja AISI 1045 Menggunakan Mesin Bubut CNC QTN 100 U." Institut Sains dan Teknologi AKPRIND.
Alam, Nadeem, Saigeeta Priyadarshani, and Mahfuj Alam. 2017. "Effect of Different Cutting Tools and Cutting Parameters on MRR and Surface Roughness in CNC Turning." 5(8):20–26.
Bag, Rabinarayan, Amlana Panda, Ashok Kumar Sahoo, and Ramanuj Kumar. 2020. "A Comprehensive Review on AISI 4340 Hardened Steel: Emphasis on Industry Implemented Machining Settings, Implications, and Statistical Analysis." International Journal of Integrated Engineering 12(8):61–82. doi: 10.30880/ijie.2020.12.08.007.
M. Bashistakumar, and B. Pushkal. 2018. "Finite Element Analysis of Orthogonal Cutting Forces in Machining AISI 1020 Steel Using a Carbide Tip Tool." Journal of Engineering Sciences 5(2). doi: 10.21272/jes.2018.5(2).a1.
Christian, Bayu. 2018. "Studi Perbandingan Permukaan Termesin Baja AISI 4340 Hasil Operasi Pembubutan Keras Dan Kering Menggunakan Pahat Karbida CVD Berlapis / A12O3 / TiCN." Universitas Sumatera Utara.
Daniel, Ipilakyaa Tertsegha. 2018. "Effect of Cut Thickness and Cutting Speed on Cutting Forces in Orthogonal Cutting of Mild Carbon Steel ( CS1030 )." 3(November):133–39.
Das, Sanat, Santanu Das, and Bijoy Mandal. 2017. "Exploring Machinability of AISI 4340 Steel with Coated Carbide Inserts." 137:165–70. doi: 10.2991/iccasp-16.2017.27.
Galanis, Nikolaos I., and Dimitrios E. Manolakos. 2014. "Finite Element Analysis of the Cutting Forces in Turning of Femoral Heads from AISI 316L Stainless Steel." Lecture Notes in Engineering and Computer Science 2(July):1232–37.
Gökkaya, Hasan. 2010. "The Effects of Machining Parameters on Cutting Forces, Surface Roughness, Built-up Edge (BUE) and Built-up Layer (BUL) during Machining AA2014 (T4) Alloy." Strojniski Vestnik/Journal of Mechanical Engineering 56(9):584–93.
Ipilakyaa, Tertsegha Daniel, Livinus Tyovenda, and David Terfa. 2014. "Predictive Force Models for Orthogonal Cutting Incorporating Tool Flank Wear." International Journal of Engineering and Technology 4(August 2014).
Irjayanti, Sabbara Luxmana, Pendidikan Teknik, Mesin Universitas, and Negeri Semarang. 2019. "Pengaruh Media Pendingin Dan Kecepatan Spindel Terhadap Tingkat Kekasaran Proses Cnc Turning Pada Aluminium Daur Ulang." Jurnal Kompetensi Teknik 11(2):34–39.
Lubis, M. Sobron Yamin, Erwin Siahaan, Steven Darmawan, Adianto Adianto, and Ronald Ronald. 2019. "Variation of Cutting Parameters in the Process of Turning Aisi 4340 Steel on Surface Roughness." Sinergi 23(2):139. doi: 10.22441/sinergi.2019.2.007.
Muhamad, Shalina Sheik, Jaharah A. Ghani, Che Hassan Che Haron, and Hafizal Yazid. 2019. "Investigation of Cutting Forces in End Milling of AISI 4340 under Dry and Cryogenic Conditions." Jurnal Tribologi 23(November):125–36.
Necpal, Martin, Peter Pokorný, and Marcel Kuruc. 2017. "Finite Element Analysis of Tool Stresses, Temperature and Prediction of Cutting Forces in Turning Process." Solid State Phenomena 261 SSP:354–61. doi: 10.4028/www.scientific.net/SSP.261.354.
Ranganath, M. ., Vipin, Kuldeep, Rayyan, Manab, and Gaurav. 2016. "Optimization of Surface Roughness in CNC Turning Using Taguchi Method and ANOVA." International Journal of Advanced Science and Technology 93(October 2015):1–14. doi: 10.14257/ijast.2016.93.01.
Rifelino, and Yanti Sari Delima. 2009. Pengaruh Sudut Potong Utama Terhadap Temperatur Pahat Bubut HSS Pada Material Baja Karbon Rendah. Padang.
Susarno, Ardiyan. 2012. "Studi Pengaruh Sudut Potong Pahat Hss Pada Proses Bubut Dengan Tipe Pemotongan Orthogonal Terhadap Kekasaran Permukaan."
Syed Irfan, S., M. Vijay Kumar, and N. Rudresha. 2019. "Optimization of Machining Parameters in CNC Turning of En45 by Taguchi's Orthogonal Array Experiments"." Materials Today: Proceedings 18:2952–61. doi: 10.1016/j.matpr.2019.07.165.
Zhou, Zhi Heng, Chao Yong Zhang, Yang Xie, Ming Luo, and Xin Yu Shao. 2014. "Research on Modeling of Cutting Force on CNC Lathe Based on Orthogonal Experiment." Advanced Materials Research 912–914:748–52. doi: 10.4028/www.scientific.net/AMR.912-914.748.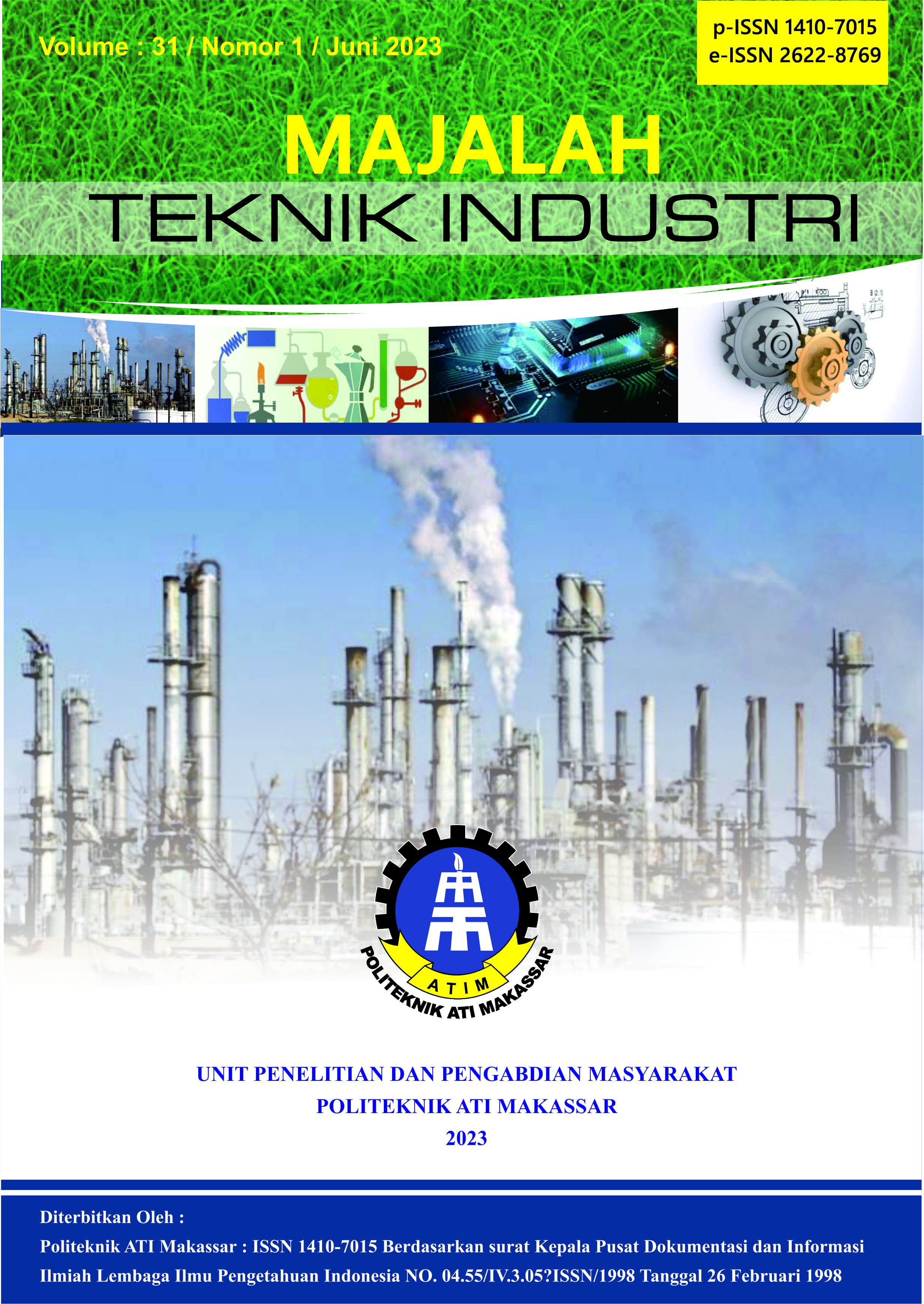 Downloads
How to Cite
Hidayat, M. F., & Ekawati, M. (2023). Analisis Tegangan dan Temperature pada Pemotongan Ortogonal Terhadap Material AISI 4340 Menggunakan Metode Elemen Hingga. Majalah Teknik Industri, 31(1), 18–27. https://doi.org/10.61844/majalahteknikindustri.v31i1.667
License
This work is licensed under a Creative Commons Attribution-NonCommercial-NoDerivatives 4.0 International License.