KINETIKA VULKANISASI KARET MENGGUNAKAN BIOPLASTICIZER MINYAK KAKAO TEREPOKSI
Kata Kunci:
Bioplasticizer, Epoksi, Kinetika, Minyak kakao, Vulkanisasi
Abstrak
Kinetika vulkanisasi karet menggunakan bioplasticizer minyak kakao terepoksi dipelajari berdasarkan data output moving die rheometer. Data percobaan didekati dengan beberapa model kinetika, yaitu model reaksi orde 1, orde 2, dan Deng-Isayev. Konstanta laju reaksi (k) pada model reaksi orde 1 dan orde 2 dihitung dari data torsi yang merupakan fungsi waktu (M = f(t)). Sedangkan pada model Deng-Isayev, nilai k dan orde reaksi (n) ditentukan menggunakan optimasi multivariable dengan tools Solver pada aplikasi Excel. Nilai energi aktivasi (Ea) diperoleh dari persamaan Arrhenius. Hasil penelitian memperlihatkan model Deng-Isayev dapat merepresentasikan data percobaan dengan baik. Konstanta laju reaksi sebanding dengan kenaikan suhu vulkanisasi. Reaksi vulkanisasi karet menggunakan minyak kakao terepoksi berlangsung pada orde (n) 3 dengan energi aktivasi (Ea) sebesar 157,55 kJ/mol.
Unduhan
Data unduhan belum tersedia.
Referensi
A. D. Briliant and T. I. Kurniawan, "Prarancangan pabrik dioctyl pthalate dari phthalic anhydride dan 2-ethyl hexanol kapasitas 35.000 ton/tahun," Skripsi, Universitas Sebelas Maret, Surakarta, 2020.
K. Peng, G. Morrow, Z. Xiaolei, W. Tipeng, Z. Tan, and J. Agarwal, "Systematic comparison of hydrogen production from fossil fuels and biomass resources," International Journal of Agricultural and Biological Engineering, vol. 10, no. 6, pp. 192–200, 2017, doi: 10.25165/j.ijabe.20171006.2990.
T. Zheng, Z. Wu, Q. Xie, J. Fang, Y. Hu, M. Lu, F. Xia, Y. Nie, and J. Ji, "Structural modification of waste cooking oil methyl esters as cleaner plasticizer to substitute toxic dioctyl phthalate," Journal of Cleaner Production, vol. 186, pp. 1021–1030, 2018, doi: 10.1016/j.jclepro.2018.03.175.
S. Chuepeng and C. Komintarachat, "Interesterification optimization of waste cooking oil and ethyl acetate over homogeneous catalyst for biofuel production with engine validation," Applied Energy, vol. 232, pp. 728–739, 2018, doi: 10.1016/j.apenergy.2018.09.085.
Y. Xiong, W. Miao, N. Wang, H. Chen, X. Wang, J. Wang, Q. Tan, and S. Chen, "Solid alcohol based on waste cooking oil: Synthesis, properties, micromorphology and simultaneous synthesis of biodiesel," Waste Management, vol. 85, pp. 295–303, 2019, doi: 10.1016/j.wasman.2018.12.036.
S. S. Muobom, A.-M. S. Umar, A.-P. Brolin, and Y. Soongseok, "A Review on Plasticizers and Eco-Friendly Bioplasticizers: Biomass Sources and Market," IJERT, vol. 9, no. 5, pp. 1138–1144, Jun. 2020, doi: 10.17577/IJERTV9IS050788.
S. G. Tan and W. S. Chow, "Biobased epoxidized vegetable oils and its greener epoxy blends: A review," Polymer-Plastics Technology and Engineering, vol. 49, no. 15, pp. 1581–1590, 2010, doi: 10.1080/03602559.2010.512338.
S. Dinda, A. V. Patwardhan, V. V. Goud, and N. C. Pradhan, "Epoxidation of cottonseed oil by aqueous hydrogen peroxide catalysed by liquid inorganic acids," Bioresource Technology, vol. 99, no. 9, pp. 3737–3744, 2008, doi: 10.1016/j.biortech.2007.07.015.
G. Wuzella, A. R. Mahendran, U. Müller, A. Kandelbauer, and A. Teischinger, "Photocrosslinking of an acrylated epoxidized linseed oil: kinetics and its application for optimized wood coatings," J Polym Environ, vol. 20, no. 4, pp. 1063–1074, 2012, doi: 10.1007/s10924-012-0511-9.
N. A. Kinasih and A. Cefriadi, "The characteristic of pure epoxidized Jatropha Curcas (Jatropha curcas L.) oil as NBR vulcanizate plasticizer," International Journal of Natural Rubber Research, vol. 32, no. 2, pp. 198–205, 2014, doi: 10.22302/ppk.jpk.v32i2.165.
S. Puspitasari, A. Cifriadi, K. Krisnawati, and T. T. Irawadi, "Reaksi transfer hidrogenasi minyak jarak kastor serta aplikasinya sebagai bahan pelunak kompon karet," Majalah Kulit, Karet, dan Plastik, vol. 32, no. 2, p. 85, 2016, doi: 10.20543/mkkp.v32i2.1361.
X. Kong, T. S. Omonov, and J. M. Curtis, "The development of canola oil based bio-resins," Lipid Technology, vol. 24, no. 1, pp. 7–10, 2012, doi: 10.1002/lite.201200167.
S. Arumugam and G. Sriram, "Synthesis and characterization of rapeseed oil bio-lubricant dispersed with nano copper oxide: Its effect on wear and frictional behavior of piston ring–cylinder liner combination," Proceedings of the Institution of Mechanical Engineers, Part J: Journal of Engineering Tribology, vol. 228, no. 11, pp. 1308–1318, 2014, doi: 10.1177/1350650114535384.
V. Thulasiraman, S. Rakesh, and M. Sarojadevi, "Synthesis and characterization of chlorinated soy oil based epoxy resin/glass fiber composites," Polym. Compos., vol. 30, no. 1, pp. 49–58, 2009, doi: 10.1002/pc.20532.
A. Kadam, M. Pawar, O. Yemul, V. Thamke, and K. Kodam, "Biodegradable biobased epoxy resin from karanja oil," Polymer, vol. 72, pp. 82–92, 2015, doi: 10.1016/j.polymer.2015.07.002.
A. J. Clark and S. S. Hoong, "Copolymers of tetrahydrofuran and epoxidized vegetable oils: application to elastomeric polyurethanes," Polym. Chem., vol. 5, no. 9, pp. 3238–3244, 2014, doi: 10.1039/C3PY01527K.
H. Xu, T. Fan, N. Ye, W. Wu, D. Huang, D. Wang, Z. Wang, and L. Zhan, "Plasticization effect of bio-based plasticizers from soybean oil for tire tread rubber," Polymers, vol. 12, no. 3, p. 623, 2020, doi: 10.3390/polym12030623.
C. Bétron, P. Cassagnau, and V. Bounor-Legaré, "Control of diffusion and exudation of vegetable oils in EPDM copolymers," European Polymer Journal, vol. 82, pp. 102–113, Sep. 2016, doi: 10.1016/j.eurpolymj.2016.06.027.
B. Mensah, B. Onwona-Agyeman, E. Nyankson, and D. Y. Bensah, "Effect of palm oil as plasticizer for compounding polar and non-polar rubber matrix reinforced carbon black composites," Journal of Polymer Research, vol. 30, no. 2, p. 67, 2023, doi: https://doi.org/10.1007/s10965-023-03443-w.
A. I. Khalaf, A. A. Ward, A. E. Abd El-Kader, and S. H. El-Sabbagh, "Effect of selected vegetable oils on the properties of acrylonitrile-butadiene rubber vulcanizates," Polimery, vol. 60, no. 01, pp. 43–56, Jan. 2015, doi: 10.14314/polimery.2015.043.
R. Joseph, R. Alex, V. S. Vinod, C. K. Premalatha, and B. Kuriakose, "Studies on epoxidized rubber seed oil as plasticizer for acrylonitrile butadiene rubber," J. Appl. Polym. Sci., vol. 89, no. 3, pp. 668–673, 2003, doi: 10.1002/app.12037.
Badan Pusat Statistik Indonesia, Statistik Kakao Indonesia Tahun 2020. Jakarta: Badan Pusat Statistik Indonesia, 2020.
N. Nafisah, F. Fachraniah, and E. Elwina, "Ekstraksi minyak coklat dari biji kakao dengan penambahan jenis pelarut," in Prosiding Seminar Nasional Politeknik Negeri Lhokseumawe, in 1, vol. 2. Aceh: Politeknik Negeri Lhokseumawe, 2018, pp. 72–76.
H. Hatta and A. Laboko, Sifat fisikokimia pasta cokelat: Dengan penambahan lemak kakao dan minyak sawit. Gorontalo: CV Cahaya Arsh Publisher & Printing, 2021.
N. Suryani, "Pemanfaatan lemak cokelat sebagai bahan baku pembuatan solid perfume berbasis minyak melati," Skripsi, UIN Syarif Hidayatullah Jakarta, Jakarta, 2020.
S. Ramlah, "Karakteristik mutu dan efek penambahan polifenol pada hand body lotion berbasis lemak kakao terhadap kulit," Jurnal Industri Hasil Perkebunan, vol. 12, no. 2, pp. 29–39, 2017.
O. H. Yeoh, "Mathematical Modeling of Vulcanization Characteristics", Rubber Chemistry and Technology, vol. 85, no. 3, pp. 482–492, 2012, doi: 10.5254/rct.12.87982.
T. H. Khang and Z. M. Ariff, "Vulcanization kinetics study of natural rubber compounds having different formulation variables," J Therm Anal Calorim, vol. 109, no. 3, pp. 1545–1553, 2012, doi: 10.1007/s10973-011-1937-3.
A. Arrillaga, A. M. Zaldua, R. M. Atxurra, and A. S. Farid, "Techniques used for determining cure kinetics of rubber compounds," European Polymer Journal, vol. 43, no. 11, pp. 4783–4799, 2007, doi: 10.1016/j.eurpolymj.2007.08.024.
O. Levenspiel, Chemical Reaction Engineering (3 ed.). New York: John Wiley & Sons, 1999.
A. Yuniari, I. Setyorini, and H. E. Mayasari, "Kinetika vulkanisasi dan sifat mekanis komposit acrylonitrile butadiene rubber (NBR)," MKKP, vol. 32, no. 2, p. 117, 2016, doi: 10.20543/mkkp.v32i2.1594.
E. Leroy, A. Souid, and R. Deterre, "A continuous kinetic model of rubber vulcanization predicting induction and reversion," Polymer Testing, vol. 32, no. 3, pp. 575–582, 2013, doi: 10.1016/j.polymertesting.2013.01.003.
A. Allahbakhsh, S. Mazinani, M. R. Kalaee, and F. Sharif, "Cure kinetics and chemorheology of EPDM/graphene oxide nanocomposites," Thermochimica Acta, vol. 563, pp. 22–32, 2013, doi: 10.1016/j.tca.2013.04.010.
B. Janković, "The kinetic analysis of isothermal curing reaction of an unsaturated polyester resin: Estimation of the density distribution function of the apparent activation energy," Chemical Engineering Journal, vol. 162, no. 1, pp. 331–340, 2010, doi: 10.1016/j.cej.2010.05.010.
I. N. Indrajati and M. Sholeh, "Kinetika vulkanisasi campuran NR/EPDM dengan pendekatan model Deng-Isayev dan Kamal-Sorour," MKKP, vol. 30, no. 2, p. 95, 2014, doi: 10.20543/mkkp.v30i2.130.
Kalaee, M., Akhlaghi, S., Nouri, A., Mazinani, S., Mortezaei, M., Afshari, M., and Gohari, D. P, "Effect of nano-sized calcium carbonate on cure kinetics and properties of polyester/epoxy blend powder coatings," Progress in Organic Coatings, vol. 71, pp. 173-180, 2011, doi: 10.1016/j.porgcoat.2011.02.006
Satwikanitya, P., Saputra, A., Sya'bani, M. W., Pambudi, W., and Agustian, M. F. (2023). Studi Pengaruh Penggunaan Plasticizer dari Minyak Jelantah Epoksi terhadap Kinetika Vulkanisasi Karet. Jurnal Penelitian Karet, 33-46.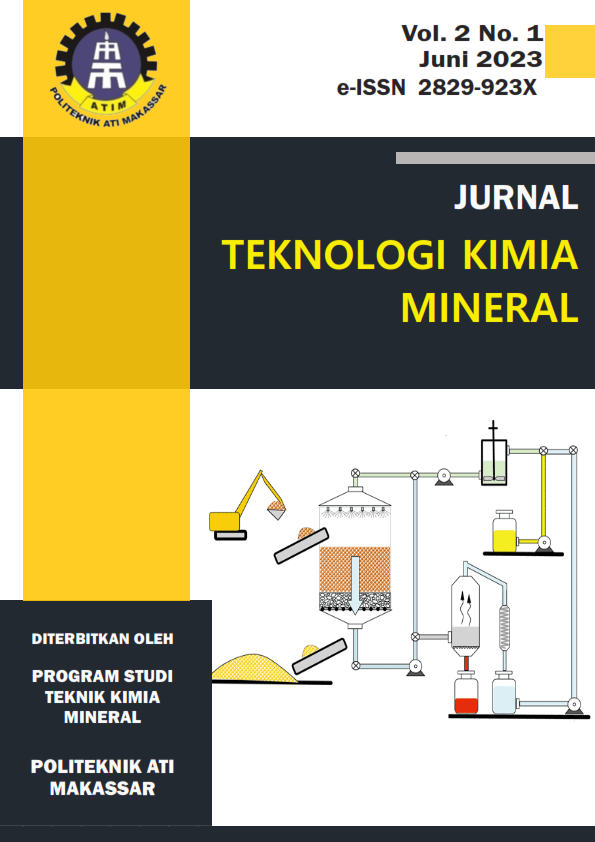 Unduhan
Cara Mengutip
[1]
P. Satwikanitya, A. Saputra, M. W. Sya'bani, dan M. F. Agustian, "KINETIKA VULKANISASI KARET MENGGUNAKAN BIOPLASTICIZER MINYAK KAKAO TEREPOKSI", JTKM, vol. 2, no. 1, hlm. 31–37, Jun 2023.
Lisensi
Hak Cipta (c) 2023 Pani Satwikanitya, Andri Saputra, Muh Wahyu Sya'bani, Mertza Fitra Agustian
Artikel ini berlisensiCreative Commons Attribution-NonCommercial-ShareAlike 4.0 International License.